Popular Mechanics in February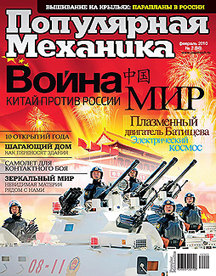 Among the main themes of the February issue of Popular Mechanics is China's military preparations. China is arming itself, equipping its army with increasingly modern military hardware. How can Russia counter the growing military might of its powerful neighbor in the event of a potential conflict?
In the "Science" section, readers will learn how antimatter (the existence of which has been scientifically proven) differs from hypothetical "mirror" universes. The automotive column reports the latest developments in auto making – the gas turbine supercar owned by top star Jay Leno, and the method for recapturing energy in the braking system of Formula 1 cars.
Also in this issue:
Magnetic plasma engines and long-distance space travel;
Who forces a sewing motorist to fly on a paraglider and why do skiers need a mini-tractor?
Ten super technologies of 2010 and the mechanics of a mysterious calendar;
Casino espionage and a mobile house;
A mini-cannon for the office and the battle of the robot gladiators;
A tank that can be an effective weapon in a city and an airplane battering ram.