New Issue of Harper's Bazaar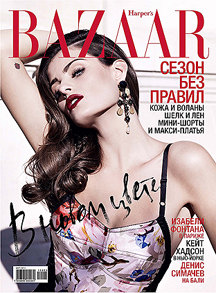 The theme of the March issue of Harper's Bazaar is life in a new light. Exclusives in this issue: clothes from Russian designers in a special photo shoot for Harper's Bazaar. Also: Isabeli Fontana in Paris, Kate Hudson in New York, Denis Simachev on Bali.
Finds: The second collection by Sonia Rykel for H&M, Kate Moss releases her Longchamp line of bags, as well as all of the newest, most essential and best according to Harper's Bazaar editors.
Details: White on black – the new season's accessories. Georgia Jagger's choice: the model tells of her love for her mother, Jerry Hall, and her passion for shoes and jackets. Rules of the game: advice from fashion insiders.
Diary: what to watch, listen to and read in March. Guide to New York: hotels, clubs and restaurants. The best hotels on Majorca and on Persian Gulf shores.
Beauty: our beauty editor shares cosmetics developments for spring. The smell of money: perfumers give a candid explanation for the cost of their aromas. Four seasons: a unique program on the Maldives.
Flash: Harper's Bazaar chooses the hottest parties of the season.