Lights! Camera! Grazia!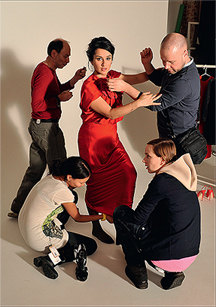 A major event occurred in the life of Grazia magazine. Three commercials for the magazine were filmed on the night of February 18 at the Photoplay photo studio set on Khokhlovsky Lane. Director Dmitry Yosifov supervised the process, and the stars of the shoot were the famous Grazia girls – television hostess Tina Kandelaki, actress Olesya Sudzilovskaya and Fabrika group member Sasha Savelyeva.
Olesya was the first on the set and, after enduring a two and a half hour make-up session, executed her role brilliantly. Another diva, Tina Kandelaki, was having her make-up applied at the same time. The television hostess should be given credit for being largely responsible for the ideal atmosphere that prevailed on the set. Sasha Savelyeva, the youngest member of the shoot, arrived exactly at midnight. The singer continued taping until morning and gave her all on the set, imbuing her clip with irresistible impishness. By the way, Sasha was not alone: she had help from our most enduring hero – Grazia editor-in-chief Alyona Peneva's pet Yorkshire terrier, Maximus. The shoot wrapped up only at daybreak – but the result was definitely worth it.
Viewers can evaluate the results of Grazia's efforts starting March 9 by watching Channel One, CTC and Muz-TV.