Harper's Bazaar: Fashion without Limits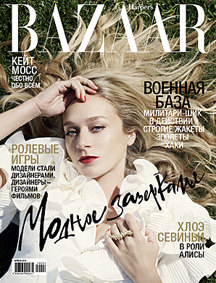 The April issue of Harper's Bazaar is on the way, and the theme for this month is "fashion without limits." The issue contains an exclusive photo shoot with super model Erin O'Connor in the role of Scheherazade.
In this issue: exception to the rule – an interview with Anna Molinari, founder of the Blumarine brand. White apparel, transparent accessories – Cindy Crawford prepares for summer. The Box club of New York through the eyes of photographer Vladimir Glynin.
Finds: Manolo Blahnik in Moscow again. Limited release: Bottega Veneta clutches exclusively for Moscow boutiques. Harper's Bazaar editors choose the main collections for the spring-summer 2010 season.
Details: the most basic of basics – putting together the right summer wardrobe. Dresses with appliqués, shoes and bags in fluorescent shades, bright trimmings with colorful stones. Rules of the game: advice from fashion insiders.
Journal: France – "The Ideal History of Modern Fashion" retrospective in Paris. Two days in Berlin – exclusive entertainment for guests of the Berlin Marriot Hotel. Moscow – mini-guide to the art world. Must-visit locations for April and the people you need to know personally. Vacation by switching places – Jude Law tells how he decided to trade his London spring for the white snow of Moscow.
Beauty: the work of cosmeticians – Harper's Bazaar in the wings of the Giorgio Armani showing. Must have – new products from Benefit, Dolce&Gabanna and Estee Lauder. Lancôme anniversary: a grand celebration and a new advertising campaign. Stone therapy: guide to Moscow SPA salons.
Flash: the hottest parties of the season according to Harper's Bazaar.