Vestnik IMSM – Best Custom Newspaper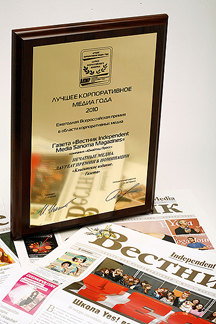 "Vestnik Independent Media Sanoma Magazines," a newspaper designed for advertisers of Independent Media Sanoma Magazines publishing house, was the proud winner of the Best Corporate Media of 2010 all-Russian competition. The publication took the prize in the category of "Corporate Media. Custom newspaper."
The Association of Directors of Communications and Corporate Media of Russia (ACMR) holds the Best Corporate Media contest annually. The awards ceremony took place on March 26 as part of the Seventh Annual International Conference on "The role of corporate communication and media in the strategic management of companies" organized by CMAR.
This year's competition attracted more than 130 print and electronic media from a variety of companies. Members of the competition's expert council selected the media of 30 different companies as winners. The laureates were awarded certificates confirming their high level of professionalism.
The Best Corporate Media of 2010 award is not the first for the Vestnik IMSM. In 2006, the newspaper won a similar contest in two categories simultaneously: "Internal corporate newspaper" in the "Media" category, and "Best Graphic Art."
Vestnik Independent Media Sanoma Magazines newsletter has existed since June 2002, and is issued by the marketing research and corporate communications department. It comes out 10 times per year – once monthly, except for single July-August and December-January issues and has a circulation of 850 copies. Three-fourths of the print run is sent to major advertisers and business partners of the publishing house, advertising agencies and distributors, with a part of the run also distributed at conferences organized by the Vedomosti and The Moscow Times newspapers. Nadezhda Kukebayeva is the editor-in-chief of the publication.