Popular Mechanics Supported Talented Youths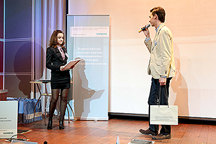 Popular Mechanics magazine served as the principal media partner for the Siemens competition of scientific and innovative projects among high school students. The competition was titled Technology for Improving Efficiency in the Workplace and Life.
According to a council of experts, the best projects were the following: "Improving the efficiency of the rational use of polymers by obtaining biodegradable materials" by Olga Perfilyeva of Stavropol, "The development of magnetically controlled carriers of chemotherapeutic agents for improving cancer treatment" by Tatiana Ryazanova of Tomsk and "Protecting information from unauthorized automatic intrusion using RNR technologies" by Mikhail Zarechensky of St. Petersburg.
Winners in the category established by Popular Mechanics magazine included both Olga Perfilyeva and Tatiana Ryazanova as well as the project "An industrial cyclone-type wind station of northern design" by Maxim Azarov of Tazovsky village in the Yamal-Nenets autonomous district. Popular Mechanics Editor-in-Chief Sergei Apresov awarded the high school students one-year subscriptions to the magazine and the right to publish their projects on the Popular Mechanics web site.