Harper's Bazaar in May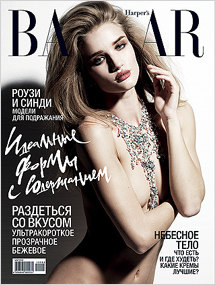 The new issue of Harper's Bazaar will be released. Exclusive in this issue – 21st century supermodel Rosie Huntington-Whiteley in a photo shoot for the Russian edition of Harper's Bazaar.
Also in this issue: an interview with Gucci creative director Frida Janine. Azedin Alaya on how to break fashion rules and remain true to yourself. Combination garments, overalls and busts in pastel shades in a photo shoot by fashionable U.S. photographer Laurie Bartley.
Findings: report from fashion shows of the autumn-winter 2010/11 season. Wedding lingerie Agent Provocateur, a bag by Emily Max Mara, Baldinini sandals and clothes made of python skin.
Details: Andrew Delos tells why a person should live beautifully. Black Tie - fresh ideas from the new creative director of Boss Black. Boots and bags in western style and futuristic plastic. And especially for Harper's Bazaar: Liberty of London store chief creative consultant Yasmin Sewell explains his choice of casual style.
Diary: pre-party "Oscar" ceremony to the clink of glasses filled with Grey Goose. The best hotels in Crete, and Marrakech.
Beauty: beauty editor's diary and cosmetics in plush packaging. How to get rid of extra pounds without harming your health and a businesswoman's nutrition secrets. Also, high-tech procedures in Moscow beauty salons.
Flash: the hottest party of the season – the choice of Harper's Bazaar.