Domashny Ochag on "One Hundred to One" Game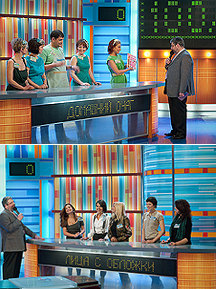 Domashny Ochag took part in the "One Hundred to One" game broadcast on the Rossiya 1 television channel. The "People From the Cover of Domashny Ochag" team played against the team composed of the magazine's editors.
The Domashny Ochag team included:
Domashny Ochag marketing and PR director Yelena Lempert. Whether in work or in every day life, she loves to invent information-based events and to organize various happenings and holidays. You could even say that work is her hobby.
Deputy Editor-in-Chief and writer Natalya Ekonomtseva. She is the one who conducts interviews with the stars who appear on the cover of the magazine.
Deputy Editor-in-Chief for special projects Natalya Filatova. She is responsible for supervising the operation of the website and the publishing of Domashny Ochag books. Filatova is the person who worked on the cookbooks published by the magazine.
Head chef of Domashny Ochag Institute Sergei Markovich.
Culinary column editor Tatiana Kolobova. She is responsible for ensuring that the recipes on the magazine's pages are appetizing and inspire readers' culinary creativity.
Playing on the "Cover People" team was Domashny Ochag executive editor Anastasia Kucherkova. It is thanks to her efforts that stars appear on the cover of Domashny Ochag, and she was the one who assembled the "Cover People" team that included Alyona Sviridova, Olga Orlova, Maria Semkina and Anastasia Chernobrovina.
The game was played in a friendly, fun and relaxed atmosphere. The anniversary issue of the magazine, the mini-format and the new Domashny Ochag Institute project were presented during the program. "One hundred to One" program host Alexander Gurevich congratulated the team on the anniversary of the magazine.
The program will air on the Rossiya 1 channel on May 15 at 1:10 P.M.