Harper's Bazaar in June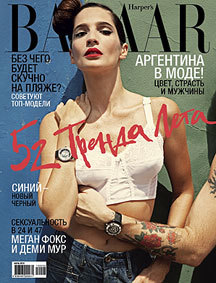 A new issue of Harper's Bazaar is out.
In this issue: dazzling outfits for stepping out. Black lace, red silk, bullfighting and Almadovar films. Megan Fox – new Hollywood star and muse to Armani. Model and photographer Astrid Munoz on the ability to enjoy life.
Finds: Barbi from Labuten, powder-colored undergarments from Lejaby, provocative Diesel shirts and Raschini super bags. The rebirth of the Carven house of fashion.
Details: What to pack in your suitcase for a vacation? Tips from top models. Nadja Auermann on her love for male style, feminine dresses and London shopping. Ethnic-style bracelets, chains with pendants, accessories in all shades of bronze – fashion ideas for all occasions.
Journal: cultural program in June, special material from the editors of Harper's Bazaar. The Tour de France – about Paris, and not only with eternal love.
Beauty: what to do with your hair at the beach this summer, on airplanes and at parties. Lady Gaga describes creating a new shade of lipstick. Must-have – Kenzo perfume. How Morocco, Mauritius and Madagascar are involved in the creation of unique cosmetic products.
Flash: Harper's Bazaar chooses the hottest parties of the season.