In New York with Cosmopolitan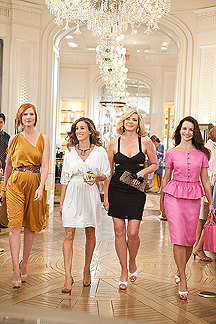 Cosmopolitan magazine and Alfa Bank are giving away a chance to become immersed in the atmosphere Sex and the City 2 and get a taste of true Manhattan style. With an Alfa Bank – Cosmopolitan – Visa card, you can not only receive discounts and complimentary gifts in stores, cafes and fashionable locations in your own city, but also spend an unforgettable weekend in New York City.
Anyone wishing to participate in the campaign "Let's Go to New York!" following the filming of Sex and the City 2" must fill out an application between May 27 and June 17, make a purchase using their Alfa Bank – Cosmopolitan – Visa card and become a purchasing leader during that period. The winner will receive a prize – a free, three-day trip for two to New York.
During the trip, the winner will visit the film's primary shooting locations: the protagonist's apartment, the Manolo Blahnik shoe store and SoHo – Carrie's main fetish and site of Charlotte's gallery. The winner will also have the opportunity to sample cakes at the famous Magnolia Bakery and browse the elegant boutiques of the Meatpacking district, where any designer worth mentioning has his or her own store.
Enjoy an exciting trip to New York!
Complete program rules and information on when the results will be announced can be found on the site www.cosmocard.ru.