A Human Life is not Loose Change!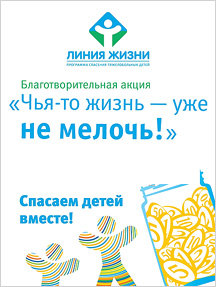 A charitable drive titled "A Human Life is Not Loose Change!" was announced at the Independent Media Sanoma Magazines publishing house on June 1, International Children's Day.
During the week, company employees could put loose change from their pockets and wallets into special jars. The collected funds will be used to treat critically ill children: Platon Klivakin (born 2008), diagnosed with improperly formed skull bones (craniosynostosis), as well as Elizaveta Konasova (born 2001), diagnosed with a double congenital heart defect (atrial septal defect and patent ductus arteriosus).
The charitable drive "A Human Life is Not Loose Change!" generated a great deal of interest among employees, and all of the jars were quickly filled with coins. The results of how much money was collected will be announced later.
The Lifeline charitable foundation – that has long enjoyed the support of Independent Media Sanoma Magazines – partnered the drive. The company is a member of the Lifeline corporate club, and several times in the past, IMSM has sent the foundation monies it originally budgeted for gifts to its business partners and clients.