Jewelry Issue of Harper's Bazaar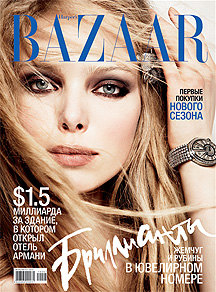 A new issue of Harper's Bazaar magazine will be released. The main theme of the summer issue is: masterpieces of jewelry in all their brilliance. This special jewelry project includes rings, watches, pendants and bracelets made by the world's leading jewelry brands.
Russian supermodel Tatiana Dyagileva graces the cover of this issue. In a special photo shoot for Harper's Bazaar, Dyagileva wears all-white clothing. Bedecked in lace and pearls, she is the very picture of innocence!
The latest events from the world of fashion are featured in the "Finds" section. A cruise showing by Chanel in Saint-Tropez; a black dress from Viktor&Rolf; updated versions of famous handbags.
Harper's Bazaar shares its must-haves of the season. What's new, needed and best – a Furla bag with a dragonfly and a dress from Costello Tagliapietra of Uniqlo.
In "Beauty," Yves Saint Laurent make-up artist Yannick Vaudry explains his love for bright colors. The "In Shape" section lists 20 effective ways to achieve physical harmony.
Also in the summer issue: where Giorgio Armani could open his first hotel; the role played by the daughter of Isabella Rossellini; the ideal proportions and how to achieve a flat stomach and slim thighs this summer.
All of this and much more in the special July-August issue of Harper's Bazaar.
On sale starting June 22.