Popular Mechanics on the iPhone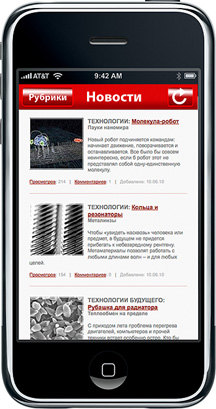 Popular Mechanics magazine is the first publication in the popular scientific niche to launch a mobile applet for the iPhone. It will be available for downloading in AppStores starting June 28.
It is no secret that digital technology – which helps save time and is becoming standard in the new format – is increasingly gaining market share. That is why the Internet and mobile telephones are becoming excellent platforms for developing new opportunities. Now readers of Popular Mechanics magazine can use their iPhones to read a constantly updated feed of popular science news, view videos posted on the www.popmech.ru site and find articles in the archive of past issues. Convenient navigation and an index will help users to stay abreast of announcements of new issues of Popular Mechanics.
The available options for the applet will expand significantly in late July. At that time, iPhone owners will be able to open their personal applet page, read user blogs and comment on news and articles. They will also have access to ratings of the most interesting and most-discussed materials, the "Shot of the Day" and various contests. Users will be able to download unique wallpaper for their smartphones in the style of Popular Mechanics and, in one of the most interesting options, they can pay for access to material from the latest issues of the magazine.
The same Popular Mechanics magazine applet will also become available for Nokia smart phones.