Fashion Predictions from Harper's Bazaar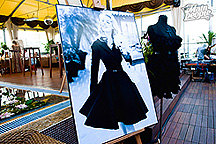 During summer days when the sun heats the city to the breaking point and city noise turns to ultrasound, Harper's Bazaar magazine and the Quintessentially English concierge club invited their friends to take a time out and immerse themselves in a dream of fall at the Fall Predictions Party. The soft sounds of jazz and fleeting moments of visual brilliance – these are the fall season fashion forecasts from Harper's Bazaar.
The magazine presented the exhibition project of fashion trends of the coming fall along with Lublu Kira Plastinina. On that Sunday evening guests could take a break from the bustle of city life and enjoy the magnificent view from the Soho Rooms terrace, sip refreshing Martini Royale cocktails and a new Martini Prosecco sparkling wine.
That same evening, Harper's Bazaar Editor-in-Chief Darya Veledeyeva celebrated her birthday. The culprit behind the celebration greeted guests in a Lublu Kira Plastinina outfit. Congratulating the birthday girl were her closest friends, members of the artistic and business elite and the most interesting members of Moscow high society – Alyona Peneva, Natalia Goldenberg, Miroslava Duma, Sonya and Yekaterina Gaidamak, Yelena Nelidova and many others.
Providing musical accompaniment for the Fall Predictions Party were Low Budget Family, Denis Simachev a.k.a. DJ Loser and Sergei Orange a.k.a. DJ One Dollar.