Cosmopolitan: Touch the Future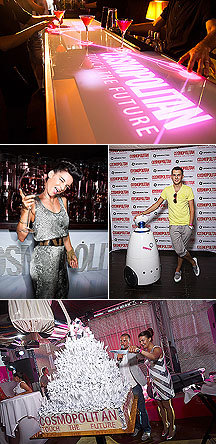 On July 21st, a stylish annual party in honor of Cosmopolitan 16th anniversary was held in "Oblaka" restaurant.
Technologies of the future - everything that has just entered or will soon enter our everyday life - was the main theme of this year's party. For instance, iTouch versions of Cosmopolitan for iPad and iPhone, and an interactive counter iBar with soft cocktails mixed according to the latest recipes. The biggest excitement of all was generated by Wii, an interactive game device through which the guests participated in dance contests and received special presents. R-bot, a snow-white speaking robot, was paid millions of compliments, impressing guests with his amicability and sociality. "We wish we had the same at home," said ladies charmed by the attentiveness of such an admirer.
Movie, music and television stars as well as other guests supported the futuristic theme with gorgous silver and white outfits and a strong desire to touch the future as soon as possible. The hot summer evening was warmed up further by host Leonid Zakoshansky and Gradusy group. Special guest Sam Obernik - decked out in a silver space look - inspired everyone with the latest dance rhythm for the last European music charts.
Guests also enjoyed charming views of Moscow from the absolutely "beyond the clouds" terrace of "Oblaka" restaurant, as well as eatery's magnificent European cuisine.
See you next year!