Harper's Bazaar – A New Season in a New Format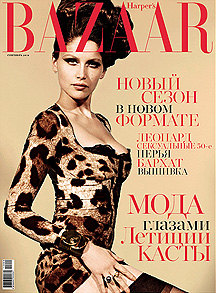 For the first time in Russia, Harper's Bazaar magazine will be published in large format, making the September issue more than just a collector's item: it will be a veritable bible of the new season's fashion – a distinctive coffee table book.
Exclusive to this issue: supermodel Laetitia Casta acts as guest editor. Also in this issue: fluffy skirts or pants in minimalist outfits, ornaments and velvet, a clean line or a practical cut – freedom of choice is the rule in fashion. Roberto Cavalli – a candid conversation with the king of luxury on the eve of the Cavalli design house's anniversary.
Finds: the rising stars of the podium, the denim line from Marni and a new ambitious project from Denis Simachev.
Details: Diary of Paris Fashion Week. A candid interview with John Galliano. Jewelry trends and news. The best accessories. Sophiko Shevardnadze on the most cherished parts of her wardrobe.
Diary: what to do in September, a detailed guide to the most popular hotspots in the new season of Harper's Bazaar. The face of Laetitia – Laetitia Casta's favorite portraitist Jean-Pierre Ruel in special material in this issue. Test Drive: Victoria Agapova covers new automobile trends on the pages of Harper's Bazaar.
Beauty: Giorgio Armani on creating the fragrance Acqua di Gioia. New perfumes as a reflection of fashion show trends. New Forces – effective procedures for restoring skin and hair, lifting from Chanel, serum from Guerlain, fall make-up trends.
Flash: Moscow, Paris, London, Tokyo, New York – all around the world, Harper's Bazaar selects  the very hottest parties of the season.
Harper's Bazaar – a new season in a new format!