Cosmopolitan: Time for Change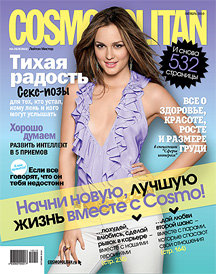 The October issue of Cosmopolitan magazine takes the slogan: "Start a new and better life with Cosmo." Full of inspiration and determination, the magazine is changing and preparing numerous surprises for its readers.
This issue features two major, long-running projects about real people. In the first, couples on the verge of breaking up who decided to give it another chance and seek help from psychologists. In the second, young women who have decided to change various aspects of their lives. The editors hope that, with the help of specialists, both groups will succeed. Also, two new columns have appeared in Cosmopolitan: the light and cheerful "What is happiness?" section about makes us happy, and the serious "PscychoLogical" column with very personal stories from psychotherapists and their patients. What's more, editors have created nine new rules of life that others will really want to follow, and they explain how friendship has changed in recent times.
All this and much more in the 532 pages of the latest Cosmo. Read, dream and take action!
With the October issue, Cosmopolitan kicks off a three-month competition titled "Create your own Cosmo and win an iPad." The most sophisticated gadget awaits the most creative readers.
In support of the October issue, an advertising campaign will run in Moscow and Russia's regions. Advertisements for the new issue of Cosmopolitan will be seen in city format, on outdoor screens and in the Formula Kino chain of movie theaters.