Harper's Bazaar in October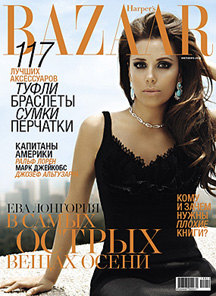 A new issue of Harper's Bazaar is coming out. Exclusive in the October issue: Cirque du Soleil performers in a special photo shoot for Harper's Bazaar.
Also in this issue: the gorgeous Giselle – the highest paid model in the world is once again in the photo studio. Young American designer Joseph Altuzara tells what women really want. Alexander Terekhov's new boutique.
Finds: Rosie Huntington-Whiteley in photoproject 10 Times Rosie, new shoes from Nicholas Kirkwood and a combination bag and brass knuckles from Alexander McQueen.
Details: Kenzo – 40 years of absolute freedom, Amanda Harlech on her aristocratic style. Earrings and spectacular pearl brooches, pins and ornaments – the best accessories of fall.
Diary: October events guide. Obrist's list: the famous art curator on contemporary art in an exclusive interview for Harper's Bazaar.
Test Drive: Victoria Agapova on new automobile trends on the pages of Harper's Bazaar.
Beauty: Brazilian dreams: the cult of the ideal body – thighs, tanning and massage. Two-phase products for natural care, a wonder-serum from Chanel and the beauty secretes of Milla Jovovich.
Flash: Harper's Bazaar chooses the hottest parties of the season all around the world – Moscow, Paris, London, Tokyo and New York.
Harper's Bazaar – fashion without rules!