October Issue of Cosmopolitan on iPad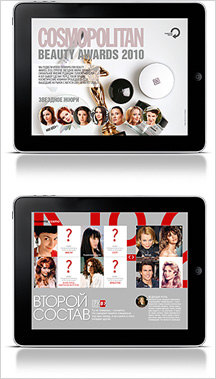 Cosmopolitan presents the October issue application for the iPad. The application, created with support from the L'Oreal Paris brand, is already available to all App Store users.
The October issue of Cosmopolitan includes:
An all-Russia "brides map" containing complete information on the "Runaway Bride 2010" promotional event;
A fun game to test your knowledge of movies and stars;
The latest video from Usher feat Pitbull, "DJ Got Us Fallin' in Love;"
Shopping and Fashion sections with animated photo galleries, as well as the Travel section with a special video show;
Interactive tests and horoscopes.
Lifestyle and Internet Projects publisher for IMSM Alyona Shagina said, "We are pleased with the success of our first release. We gained some very positive experience and are ready to publish iPad applications for other magazines as well."
The Cosmopolitan iPad application was introduced on August 17 and the September issue was downloaded more than 8600 times. The October Cosmopolitan iPad application is already available to users for $2.99 through the iPad App Store, or at the website www.itunes.com/appstore.