Harper's Bazaar in November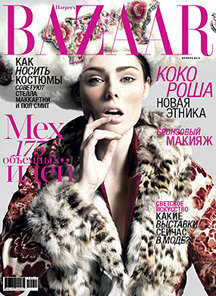 A new issue of Harper's Bazaar will soon be released. November issue exclusive – special report on tennis player Vera Zvonareva.
Also in this issue: the bright colors of Spain – flamenco dancers on the fashion scene. Model Coco Rocha in furs and feathers traverses snowy expanses. Donna Karan sums up the brand's 25th anniversary and tells the story of her life. Cirque du Soleil Russia director Natalia Romanova tells Harper's Bazaar about her tastes and life strategy.
Finds: recent developments in the world of fashion – YSL gold pendants, Parisian examples of haute couture, fresh classics from Salvatore Ferragamo.
Details: Secrets of "masculine" style – designers on the attractiveness of women in men's suits. One step ahead – Pop magazine chief editor Shala Monrok on the attitude toward fashion. Jewelry with emeralds, watches and pendants, Graff earrings, Dior color mascots and jewelry news.
Diary: guide to November events. Why are we going there? Art as the main attraction of high society. The fall premiere of the Alexandrinsky Theater. Life – Betty Catroux-style. Test Drive – Viktoria Agapova on new automotive trends on the pages of Harper's Bazaar. Alisa Grebenshchikova on boys, noses and her role as Pinocchio under the direction of Joel Pommerat.
Discovery: the best spot in London. Italian: the sweet life.
Beauty: powder, blush and eye shadow with golden tints. A new path to rejuvenation using stem cells and tooth correction. Serum from Givenchy, fragrance by Montale, launch of the Burberry cosmetics line and anti-aging cream from Estee Lauder – all of the newest, most needed and best on the pages of Harper's Bazaar.
Flash: Moscow, Paris, London, Tokyo and New York – Harper's Bazaar chooses the hottest parties of the season from all around the world.
Harper's Bazaar – fashion without rules!