Grazia Showing at Russian Fashion Week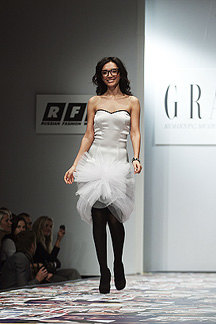 As part of Russian Fashion Week, on October 17 Grazia magazine staged a showing of the results of its competition for young designers. This is the second time this year it has held the contest. Participants began submitting their sketches of business outfits and cocktail dresses to the Grazia editorial offices in spring, and in September an expert jury selected the 10 best entries to be displayed at the showing. Givenchy make-up designers and Aldo Coppola hair stylists, both partners to the showing, worked to give the models their winning looks.
This year, the Snezhnaya Koroleva (Snow Queen) chain of fashion stores presented an award in a special category of the competition. Kristina Belskikh won the award by creating five stylish images under the theme "Dreams of Summer." That collection will appear as early as March 2011 in centrally located Snezhnaya Koroleva stores.
As usual, participants in the fashion show were celebrities who infused every image with their personal style. Taking the podium this year were Irina Chashchina, Maria Kozhevnikova, Svetlana Ivanova, Yulia Mikhailchik, Tatiana Tereshina, Sati Casanova, Anastasia Makeyeva, Karina Oshroyeva and Paulina Gagarina, as well as the winners of the "Become a Model with Grazia" competition. Renowned Russian designer Maxim Rapoport served as director of the showing.
Thanks to the stellar cast and the efforts of the young designers, the collection was very positively received by both guests of the show and by fashion journalists present. Grazia plans to continue the project next year.