Cosmopolitan Shopping Party by Mango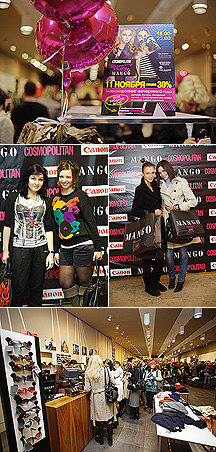 The Cosmopolitan Shopping Party by Mango – the largest shopping party of 2010 – was held simultaneously in 25 Russian cities on November 11. Cosmopolitan magazine and the Mango fashionable clothing brand staged a gala celebration for Cosmopolitan readers across the country.
Cosmopolitan magazine readers prepared for the party in advance and before the stores opened, a huge number of people had lined up wanting to get into the Cosmopolitan Shopping Party by Mango. Shoppers were treated to an unprecedented 30-percent discount on the entire autumn-winter line from Mango, music from trendy DJs, light cocktails by Redds, Yves Rocher cosmetics, "instant" gifts from Canon and many other surprises.
The discount was granted to shoppers who had clipped a coupon from the November issue of Cosmopolitan or who had filled out a form on the Cosmo.ru site. In addition, the Mango website extended the 30-percent discount for over 24 hours as a gift to online shopping fans.
Mango advertising manager for Russia, Central Asia and Eastern Europe Karina Gusalova said, "This is the second Cosmopolitan Shopping Party by Mango, and both were a big success. Young women who had attended the first event brought their girlfriends this time because everybody likes the new, easygoing shopping atmosphere. We want our customers to know that shopping should be a wonderful part of their lives. We look forward to continued collaboration with Cosmopolitan magazine by organizing events for our clients. Many consider Mango their favorite brand, and we would like them to continue doing so," Gusalova said.
The first Cosmopolitan Shopping Party by Mango was successfully held in 13 Russian cities in April 2010.