Popular Mechanics in December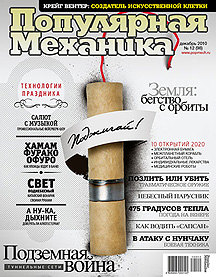 How will dozens of the next decade's important discoveries look? The December issue of Popular Mechanics magazine offers its version.
In this issue, the authors of the "Science" section assess the possibility of Planet Earth as an interstellar craft and reveal amazing facts about the weather on Mars, Mercury and Jupiter. The New Year's "Technology of the Holiday" section reports on exotic saunas and professional fireworks, everything required for launching Chinese lanterns and whether over-the-counter alcohol detectors are accurate. The "Science Fiction" section presents "A Little Cash" by Valery Garkushev.
Also in this issue: a real flying ship or a sailing aircraft, instructions for driving the Sapsan express, an exclusive interview with the creator of artificial life, the birthplace of race cars and super cars, what traumatic weapons can do and were nunchuks come in handy.
For the second consecutive year, the December issue of Popular Mechanics includes a special New Year's supplement – a guide to the most interesting gifts for men: from those with extreme lifestyles to those who prefer to spend their free time at home.