Harper's Bazaar in January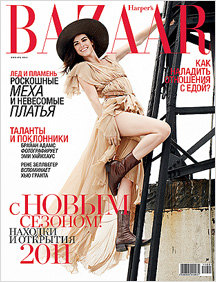 The January issue of Harper's Bazaar has been released.
In this issue: model Hilary Rhoda as a new era groupie, Georgia May Jagger on her relationship with her parents, actress Renee Zellweger on her new profession and love for Hugh Grant. David Bowie's muse, supermodel Iman, shows proves that it is possible to be a style icon at 55.
Finds: a special report from fashion shows in New York, London, Milan and Paris. Brand identification – the new story of Escada. Also: "oil" bracelets by Alexis Bittar, Uniqlo down jackets and the Wolford limited lingerie collection.
Details: Best dressed – the best outfits of 2010. Singer Amy Winehouse presents her collection of clothing for Fred Perry and a new Alberta Feretti boutique opens in Moscow. Also: Tiffani&Co necklaces, Rado watches and a Vertu smartphone.
Diary: guide to events in January. Jean-Paul Gaultier on philanthropy and Elton John. Graying beard: divorce after 50.
Discoveries: China – a country of contrasts. A hotel of handmade items in Marrakech.
Beauty: new in January – Burberry powder, eye shadow, nail polish and fragrances. Aims and methods – how to find the right massage therapist. Narrow waist – how to achieve the desired result. Cosmetic procedures that protect the skin from the cold. The new nutrition system: think about what we eat.
Flash: Moscow, Paris, London, Tokyo, New York – Harper's Bazaar picks the season's best parties from all around the world.
Harper's Bazaar – fashion without rules!