"Plan for Happiness" from Cosmopolitan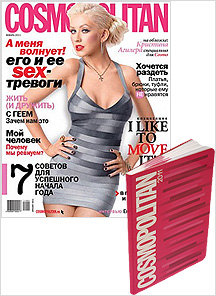 The first Cosmopolitan issue of 2011 comes with a holographic logo and a special A4 format gift enclosed for readers – a Cosmopolitan "Plan for Happiness" weekly planner for the whole year.
Cosmopolitan magazine has developed a unique planner especially for its readers to help them achieve their goals and achieve success in life. It is a convenient A6-format weekly planner for 2011.
The "Plan for Happiness" weekly planner has a convenient structure and layout. Ladies can record their goals for the year in the blank pages, important dates and birthdays in the calendar at the beginning, and jot down thoughts or ideas for achieving their plans at the end.
Readers compose their own plans depending on their desires, aspirations and needs and Cosmopolitan has included positive and uplifting quotes on each page of the weekly to make their lives more joyous.
In addition to the "Plan for Happiness," the January issue of Cosmopolitan includes a special section "I like to move it!" on how to change your life by changing your place of residence; fashion that men don't like; cancelled holiday syndrome: how to avoid becoming sad right after January 1 and which miracles to expect to keep your mood up; landing your dream job simply by having a lucky place in line or arguing with your friend's girlfriend and much more.