Grazia Held New Year's Masquerade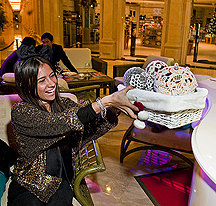 Grazia held a New Year's masquerade for its business partners and friends at the Crocus City Mall on Dec. 18, 2010. The magazine had many surprises in store for the evening, including driving guests to the event in Cadillacs, where they found a buffet table graced with Alianta Group wine and champagne, as well as Seryab artesian water.
As per tradition, the main event of the evening was a charity auction. At Grazia's request, Russian designers Denis Simachev, Alyona Akhmadullina, Alexander Terekhov, Sergei Teplov, Kira Plastinina and Oleg Ovsiyev (Viva Vox) created original Christmas tree ornaments, which, of course, all sold in a matter of minutes. The event raised 175,000 rubles ($5,843) altogether, which Grazia donated to the Give Life foundation.
Following the auction, guests were treated to an outstanding dinner organized by Traktir Pozharskogo restaurant. The evening continued with an exciting performance by Viktoria Daineko.
Grazia is overjoyed that the masquerade was such a success!