Harper's Bazaar in February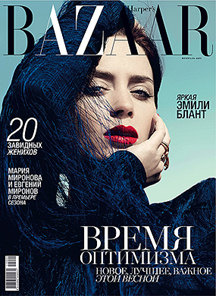 The February issue of Harper's Bazaar to be released.
In this issue: Tom Ford and his muse on the designer's new women's collection. Paloma Picasso, daughter of the world-famous artist, discusses her collaboration with Tiffany & Co. Actress Emily Blunt gives an interview from the saddle. Andrei Loshak on the fashion of citizenship. Yevgeny Mironov and Maria Mironova before the premiere performance of Caligula.
Finds: opening of the Privé Jewellery corner, the debut of Philip Plyayna at Fashion Week in Milan. Jonathan Saunders for Escada Sport. Cecilia Dean on how to dress for 99 cents. Christophe Lemaire — the Lacoste creative director with 10 years' experience.
Details: key trends and hallmark accessories of the season. What to buy and how to wear it. A new "Spanish" collection from Carrera y Carrera. Anatomy of the senses: heart-shaped earrings and pendants.
Gifts: Earth, Air, Fire, Water — the best gifts for men.
Beauty: interview with Natalia Vodianova, the "face" of Guerlain. Estée Lauder against breast cancer. New hair care procedures.
Diary: guide to February happenings. A rating of eligible grooms and everything about female rivalry.
Discoveries: walking beyond two seas — the living and dead waters of Jordan. The six best hotels in Switzerland.
Flash: Harper's Bazaar picks the hottest parties of the season from all around the world.
Harper's Bazaar — fashion without rules!