Cosmopolitan Academy Opened its Doors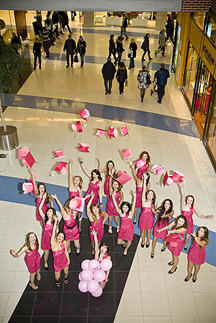 Cosmopolitan magazine has launched a new project: the Cosmopolitan Academy. In honor of the opening, a huge celebration was held at the Metropolis shopping center on Jan. 28, 29 and 30. Everyone visiting the Moscow shopping center that day became part of a truly unforgettable event.
The main Cosmopolitan Academy display in the central atrium consisted of various beauty zones. In the Sunsilk zone, ladies were treated to free hair styling, and a professional trichologist used a special device to help them select the right hair care products for them, as well as sharing the secrets of a healthy diet for beautiful hair. In the Beauty and Style zone, visitors could consult a Cosmopolitan stylist, apply make-up and correct their eyebrows with help from the U.S. brand Benefit, and get an express manicure by experts from the Persona beauty salon chain. Cosmopolitan invited photographers to hold a photo shoot especially for the celebration. Everyone who took part in the shoot received a complimentary print from the Photoproject professional photo laboratory. Guests were entertained by DJ Fenix, Muz-TV's Stilistiki presenter Yulia Antontseva, and MTV's Trendy presenters Snezhina and Anita.
Members of the public expressed the greatest interest in a tour of the Cosmopolitan Academy. Those who had signed up in advance were able to view the specially designed interior with its make-up room and reception area. Guests could watch a special Cosmo video where celebrity instructors described the courses they would teach, and each received a complimentary lip gloss from Yves Rocher and refreshing drinks from event partners Le Compliment champagne and Evian premium water. Academy tour guests could also sign up for courses they found interesting.
The Academy was custom-designed for Cosmopolitan by architects Alina Vasilyevna and Mikhail Krymov of the Arrrkh! architectural bureau. The Design Boom interior design gallery presented designer furniture for the project; Philips home electronics contributed the television panels and home theater; and Apple provided modern computers.
"An enormous amount of work was accomplished in the year spent preparing the Cosmopolitan Academy," said Marketing Director for the Cosmopolitan group of publications Lyudmila Agafonova, "I would like to point out the drive and positive atmosphere that marked the first seminars. Now that construction has been completed, I can view the project from another vantage point and can say candidly that I really like it! I am sure that our readers will appreciate it also." 
The Cosmopolitan Academy is a helpful and new creative project from Cosmo. The magazine conducts thematic training sessions, master classes, lectures and seminars specially for readers, many with celebrities. Academy students can take advantage not only of personal meetings with instructors, but also online consultations and video conferences. This makes it possible for every reader to receive advice from the Cosmo specialists, no matter where she lives.
Academy courses focus primarily on style, beauty, fashion, career and relationships. Instructors include professional psychologists, image makers, stylists, financial consultants and other specialists. Additional master classes will be conducted by celebrities, experts and editors from Cosmopolitan, Cosmopolitan Shopping, Cosmopolitan Beauty and Cosmopolitan Psychology.
The Cosmopolitan Academy is located on the third floor of the Metropolis shopping center and has the following opening hours: Tuesday through Saturday from noon until 10 p.m., Sunday from noon until 7 p.m. It is closed on Mondays.
You can find more information and sign up for Academy courses at www.academy.cosmo.ru.