Technological Premiere from Popular Mechanics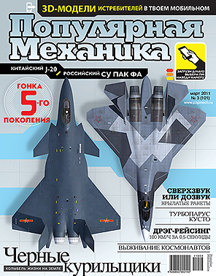 On Feb. 22, Popular Mechanics became the first print publication to offer an augmented-reality information channel for mobile phones.
With the aid of this technology, readers of the March issue will be able to use their smartphone screens to view 3D, movable graphics based on the cover story — a comparison between the latest secret Chinese fifth-generation fighter jets and their Russian and U.S. counterparts, the PAK FA and the F-22 and F-35 respectively. Readers can use their smartphone screens to view detailed three-dimensional modeling images of the latest fifth-generation combat aircraft from every possible projection and angle, viewing them in three-dimensional space and virtually holding them in their hands.
Popular Mechanics not only writes about cutting-edge technologies — it also uses them to produce unique issues of the magazine:
In April 2006, PM published the first magazine in Russia to use 3D images;
In April 2008, PM created an "invisible issue";
In September 2009, PM released an Internet issue making use of augmented reality.
Also in the March issue of Popular Mechanics:
Will the railgun replace expendable launch vehicles?
Cruise missiles: subsonic vs. supersonic;
Deadly gamma-ray bursts and life in the rays of a "red dwarf";
What should an astronaut landing in the taiga be able to do? Survival skills report;
Orbital wheels for motorcycles and sails;
Life on Earth might have begun in boiling hot water, but traces of early life forms are being sought under the Antarctic ice;
In Edison's footsteps: audio recording on a plastic cup.
A large-scale Internet advertising campaign will be held in support of the March issue. Banners and content ads will appear on the web sites Vedomosti.ru, rb.ru, mail.ru, lenta.ru, cnews.ru and many others.