Harper's Bazaar in March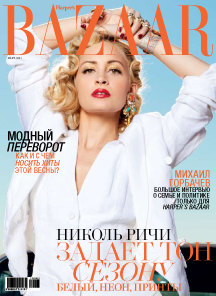 The new issue of Harper's Bazaar has been released, with an exclusive major interview with the only president of the Soviet Union, Mikhail Gorbachev, speaking on politics, love and aging.
Also in this issue: With the image of an American comic-book heroine, Nicole Richie sets the tone for the season with white, neon and prints. Sting & Trudie, a married couple with a 30-year history, explain what real passion is while posing for Terry Richardson's camera. Harper's Bazaar also celebrates the triumphant return of legendary models and style icons from past decades.
Finds: white slacks, cocktail dresses with lace and bows and '50s-style glasses. Yves Saint Laurent is the point of departure for spring. Five new brands worth watching and five little-known facts about the Chanel 2.55 purse.
Details: Online fashion. The brightest and most current trends of spring-summer 2011 and the hottest buys of the month. Rules for the season include combining contrasting colors, buying a palm-sized purse, wearing a skirt just below the knees, and 14 more fashion tips in the March issue of Harper's Bazaar.
Journal: cultural program for March. An interview with Spanish choreographer Nacho Duato who signed an open-ended contract with the Mikhailovsky Theater of St. Petersburg. All there is to know about the Bacardi family. A test drive with Yevgenia Milova. Harper's Bazaar shares the secrets of success of a true knife and ladle guru — British chef and culinary designer Tom Wolfe.
Beauty: The Asian ESPA branch in Hong Kong. The new season is full of surprises: bright and sensuous shades are back in fashion. Actress Natalie Portman tells Harper's Bazaar about "Black Swan" and a new fragrance by Dior.
Discovery: A trip from Hua Hin to Bangkok. A closed club development in Cyprus, and the best places to vacation when traveling with children. Dubai: luxury tours in the United Arab Emirates. Ischia Island: the quintessential Italian hot springs hotel opens the season with a new spa program.
Flash: Harper's Bazaar picks the hottest parties of the season.