Harper's Bazaar on Your iPad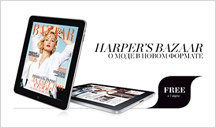 Harper's Bazaar, one of the world's most authoritative fashion magazines, presents the first Russian-language fashion application for the iPad.
Since its beginnings in 1867, Harper's Bazaar has always been at the vanguard of world fashion, setting a high standard of style for its millions of readers. This year, the Russian edition of Harper's Bazaar celebrates its 15th anniversary. There are numerous pleasant surprises in this anniversary year for fans of the magazine, the most significant being the release of a special Russian-language iPad application.
The Harper's Bazaar iPad app offers a new look at fashion photography, as well as an interactive format for article headings, a function to share material on Facebook, and many other opportunities for multimedia entertainment. Now Harper's Bazaar's Russian readers can truly enjoy the multifaceted and changing world of fashion thanks to the publication's new ultra-modern format.
From March 1, readers have been able to download the first free issue of the Harper's Bazaar Russia application from the AppStore.