Independent Media Supports Morozov Hospital Patients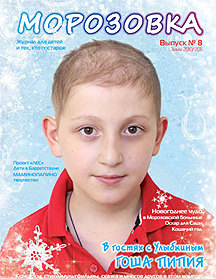 The Sanoma Independent Media publishing house is providing support to publish the magazine Morozovka. The magazine has been produced for almost two years by volunteers from the Podari Zhizn (Give Life) charitable foundation, who visit juvenile cancer patients at Morozov Children's Hospital.
The first seven issues of the magazine were financed by private benefactors and printers. Sanoma Independent Media will provide the financial support needed to produce the next five issues planned for 2011.
All material for Morozovka is prepared by volunteers, with the active participation of children and their parents. The magazine's main mission is to provide support to children and their parents during their long periods of treatment and rehabilitation. It also reports on children who have recovered, recounting how active and creative they are. To this end, Morozovka includes interviews with children who have completed treatment, or are in the final stages of treatment.
Many sections of the magazine are devoted to artwork that children in the hospital have produced. By reporting on contests and projects and by publishing a large number of the children's artworks — drawings, photographs, craft projects, paper cut-out pictures, poetry, stories and even cartoons — the magazine involves the children in creative endeavors that not only brighten up the routine of hospital life and distracts them from their diseases, but also has a therapeutic effect by helping to lift their spirits and reinforce the healing process.
Morozovka also runs articles on events that Podari Zhizn volunteers run at the hospital: holiday celebrations, New Year's parties, celebrity visits and field trips to concerts and shows. All articles are invariably accompanied by photographs of the participating children, who are later thrilled to see themselves in the magazine. 
The magazine created its own postal service, Pochta Ulybkina (Smiley-Man Mail), for feedback purposes. Ulybkin (Smiley Man) is the character who ostensibly publishes the magazine. Acting as couriers for the postal service, volunteers hand every child a letter, picture or a new issue of the magazine along with a symbolic certificate and a prize.
Readers can view or download all past issues of Morozovka magazine at the web site www.morozovka.org.
You can find out what the juvenile hospital patients currently need most in the Morozov Hospital section of the volunteers forum at www.podarizhizn.ipb.su.