Harper's Bazaar Invited Partners to Business Breakfast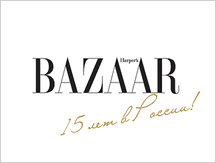 Harper's Bazaar invited its advertising partners to the Bazaar Breakfast at the Ararat Park Hyatt Moscow on March 17. The business breakfast was dedicated to the 15th anniversary of Harper's Bazaar in Russia.
Sanoma Independent Media CEO Elena Myasnikova outlined the main trends and the current state of the Russian market for glossy magazines, emphasizing that the advertising market has perked up since the crisis, giving significantly higher advertising revenues. Guests also received a preview of the anniversary issue of Harper's Bazaar set for release on March 22.
Harper's Bazaar editor-in-chief Daria Veledeyeva told guests about the large-scale advertising campaign for the jubilee year, an exhibition by Alexei Brodovich in honor of the magazine's 15th anniversary in Russia, the annual Charity Bazaar drive as well as plans to release a special fall issue with a cover created by 15 world-famous designers.
Digital media publisher Alyona Shagina spoke about the Harper's Bazaar iPad application — the first and only one of its kind among Russian glossy fashion magazines. Now Russian readers of Harper's Bazaar will derive even greater enjoyment from the multi-faceted and ever-changing world of fashion with the magazine's ultra-modern new format.
As the breakfast concluded, Harper's Bazaar presented guests with pleasant gifts.