Cosmopolitan in April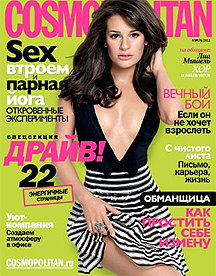 The April issue of Cosmopolitan contains uninhibited sex experiments, an interview with Glee star Lea Michele, the most fashionable ways to wear shorts, the premiere of the "Changing Clothes!" column and 22 inspiring pages on how to start a new life by loving the world, your job and yourself.
The April issue is supported by an advertising campaign. Branding commercials will run on the TNT, Muz-TV and MTV television channels and in Moscow and St. Petersburg movie theaters. Outdoor and indoor ads will run in a variety of formats throughout Russia. Moscow ads will include whole-wall ads in the city center, a rooftop installation near the Metropolis shopping center, 3 by 6 meter panels, city boards and metro ads. In St. Petersburg the campaign includes ads in city buses and the metro, and large-format posters will be used in the regions. Commercials will also be broadcast on the Europa Plus and LoveRadio stations. The latest issue is also mentioned on the popular "The U Brigade" morning radio show on Europa Plus.
The large-format April Cosmo also contains a special issue of Grazia magazine.