Popular Mechanics in April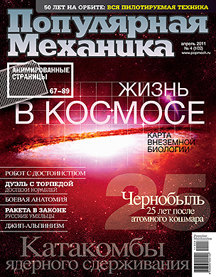 The April issue of Popular Mechanics features new Motion animated illustrations. Thanks to Motion technology, readers will be able not only to learn about unusual internal combustion engines, outlandish but useless locomotives and the secrets of Chin Na martial arts, but also see how they move and work.
Readers must lay a special strip over the illustrations to set them in motion. Moving the strip from side to side causes the pictures to "come to life" through a special technique. The necessary strip is included in the April issue of Popular Mechanics.
Of course, the main story of any issue released on the 50th anniversary of manned space flight has to be the exploration of outer space. The magazine includes articles about the chances of finding life in our solar system, an overview of the entire half-century of manned space flight technology, and instructions for piloting the Soyuz-TMA spacecraft. In the Arms column, read a report from the launching facility of an actual nuclear missile and learn the story of anti-torpedo armor for ships.
Also in this issue:
Chernobyl 25 years after the nuclear nightmare: what is happening now at the nuclear power plant;
The GIRD (Group for the Study of Reactive Motion) continues: Russian enthusiasts are building rockets once again;
Science of the Impossible: Would there be life on Earth if the crust were thick, not thin?
Physics of the vortex, or how to shoot smoke;
Artificial Intelligence: Robots and people have difficulty interacting.