Cosmopolitan Night Out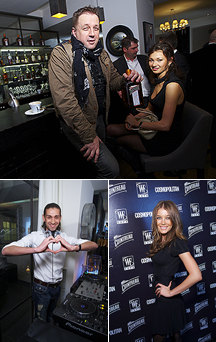 Cosmopolitan teamed up with Remy Cointreau cognac to delight Muscovites with the new Cointreaupolitan cocktail at the Cosmopolitan Night Out party on March 30.
Among the many people invited to try the cocktail were contestants from the highly-anticipated reality show "Top-Model Po-Russki" on Muz-TV, as well as famous figures Nyusha, Max Chernitsov, Lena Knyazeva, Bianca, the pop groups Mobile Blondes and Infinity, t-killah, designer Antonina Shapovalova, the "Beauty of Russia" Darya Konovalova, Oxana Ustinova, Tootsie group member Lesya Yaroslavskaya, Rita Chelmakova, model and presenter Yulia Antontseva, the group 4Post, Olga Buzova, representatives of model agencies Modus, Vivendis, Casta Models and Fashion Models as well as friends of Cosmopolitan magazine.
DJ and former all-Russia soccer team goalkeeper Ruslan Nigmatullin added to the evening's festive atmosphere with an original music set. Under the inspiration of Dita Von Teese, the face of the Cointreau brand, he got the dance floor spinning and conquered the assembled Moscow beauties with his music.
The Cosmopolitan Night Out was held in the most stylish locale of the season — the World Fashion Cafe.