Popular Mechanics in May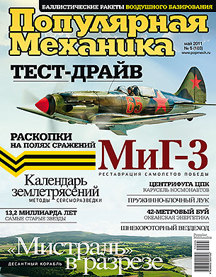 Popular Mechanics magazine has included a St. George's Ribbon in the May issue as a traditional gift to readers. The customary material on Victory Day includes a report on military archeology and the restoration of World War II aircraft.
In the Weapons column, an unusual secret project for deploying ICBMs aboard cargo aircraft and a story about a firing range where civilians can shoot cannons and mortars.
Responding to current events, the magazine publishes an article on the technology of earthquake prediction, as well as the floating wave and flying wind power stations that could one day compete with nuclear power plants. The Science section tells readers about the first stars and whether it is really possible to weigh the human soul.
Also in this issue:
The Mistral helicopter carrier – warship or officers' yacht?
The helicopter cockpit: detailed instructions;
Screw-propelled craft: the ultimate off-road vehicle;
The Star City centrifuge: a giant masterpiece of precision mechanics;
The mysterious death of the USA-2 aerostatic balloon;
Why the Mythbusters show has saved numerous lives.