Harper's Bazaar at "What is Art?" Festival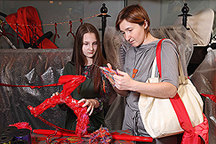 On April 23, Harper's Bazaar magazine, the Phillips De Pury auction house and the Quintessentially club held lessons for junior high and high school students on 20th-21st century art theory and history based on the collections of the Art4.ru museum of modern art.
The "What is Art?" program included a conversation and quiz with art historian Liza Plavinskaya during which children could come to their own understanding of what constitutes art, a workshop with child psychologist and artist Svetlana Vlasova in which children learned to make modern art objects, a chance to create a living picture based on "Angel" by Ilya Kabakov as well as a performance about friendship and the synthesis of the arts conveyed in music and poetry.
Harper's Bazaar served as media partner to the event. The magazine's logo was placed on festival invitations and the press banner. The Harper's Bazaar mobile advertising stall and the latest issue of the magazine were also on display at the event.