Grazia Held Bachelorette Party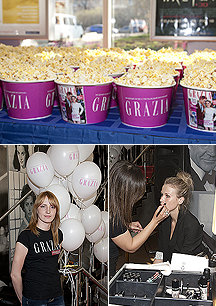 The long-awaited Grazia bachelorette party was held at the Formula Kino Horizon movie theater on April 27. Devoted readers collected coupons for two months and exchanged them for invitations to the event.
The premises were decorated in the style of the main attraction of the program — a screening of the film "Water for Elephants." As they entered, guests were greeted by a red carpet and a fashion photographer inviting them to participate in a photo session. The young ladies were happy to pose for the camera and those photos are available for viewing at www.graziamagazine.ru.
In the main hall, guests were treated to a buffet and a beauty zone. Makeup artists from Rouge Bunny Rouge offered stylish makeup applications, Paul Mitchell hair stylists gave the ladies creative hairdos; and manicure experts from the Palchiki (Fingers) salons painted the women's nails in stunning hues. Florists of the Gallery Boulevard salon created a festive mood by placing flowers in attendees' buttonholes.
The young ladies enjoyed the buffet, the casual atmosphere and the complimentary new issue of Grazia magazine. The bachelorette party, attended by more than 300 readers, had a truly light and romantic spring atmosphere.
Read the magazine and take part in Grazia contests and you will undoubtedly have an opportunity to attend one of the publication's events!