Harper's Bazaar Cocktail Party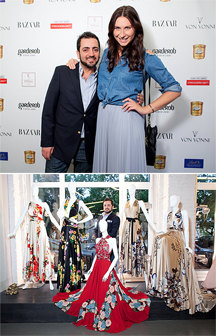 On June 15, U.S. designer Von Vonni and Harper's Bazaar magazine held a cocktail party in the Garderob boutique on 16/5 Malaya Nikitskaya Ulitsa in Moscow to raise funds for children with cancer.
Since June 1, the Garderob boutique has been displaying a collection of 200 famous transformable red dresses at special prices. All proceeds from the sale of the Von Vonni dresses will be donated to the Give Life charitable foundation.
For the June 15 party, Von Vonni prepared nine of his designer dresses that Moscow's most fashionable it-girls adorned with accessories and personally presented to party guests. Anastasia Virganskaya, Irina Chaikovskaya, Ksenia Chilingarova, Miroslava Duma and others were among those present at the Garderob boutique.
The U.S. line of Strixaderm cosmetics, Cutty Sark Scotch, Lindt Swiss chocolate, the LeCadeau boutique chain as well as the Perrier and Vittel premium mineral water brands served as partners to the event.
The guests enjoyed and appreciated the outfits created by Von Vonni and, flattered by the warm reception, the designer promised to return to Moscow more than once.