New Participant in Independent Media Donations Project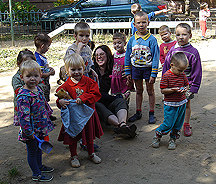 The Here and Now charitable foundation, which provides assistance to orphans, has joined They Need Your Help — a program of voluntary donations from employees of the Sanoma Independent Media publishing house. The foundation provides ongoing assistance to more than 3,000 children, ranging in ages from under 1 year to 18 years and living in various Russian regions.
"Our foundation has existed for six years, said foundation director Tatyana Tulchinskaya. "It started as a project of five like-minded people, but now the people supporting us financially and through volunteer work number in the thousands. Likewise, we are now helping many times more children than before. Only those orphanages with which we work on an ongoing basis number about 40. But we still need the help of those who care if we are to provide even more children with treatment and education and send them to summer camp or trips to Moscow."
Plans are under way for Sanoma Independent Media staff to provide the foundation with volunteer support in addition to financial assistance.