Summer Issue of Harper's Bazaar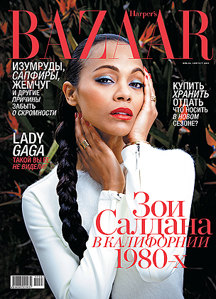 The new July-August issue of Harper's Bazaar is being released. Avatar star Zoe Saldana tells Harper's Bazaar about her new role in the Luc Besson film Columbiana and shares her plans for the future.
This issue also includes: Lady Gaga, the Queen of Outrageous, talks about the release of her new album and preparations for her Born This Way world tour. Designer Katya Dobryakova created a new collection of clothing with ironic print portraits of Alexander McQueen, Steven Jobs and Mark Zuckerberg. Emeralds, sapphires, pearls and other reasons to forget about modesty. This season, people are wearing 70s-style swimsuits and scarves with light coats and hats.
Finds: a report from fall fashion shows in New York, London, Milan and Paris. Gaia Repossi, creative director of the Repossi house of fashion, discusses his laconic style. New, necessary and best — vintage clothing from Victoria's Vintage, a new collection by Roccobarocco and Claudia Schiffer for Iris von Arnim.
Details: a showing of the Cruise Collection by Chanel, personal shopping from Yevgeny Linovich and Angela Missoni's family album.
Ornaments: the main color of the season — white gold, white diamonds and white watch faces and bands. The most luxurious ornaments of the season, new wristwatches and jewelry trends.
Diary: July-August events guide, an interview with Javier Bardem and his teacher Juan Carlos Corazza. A test drive with Yevgenia Milova and the Max Mara Art Prize for Women.
Beauty: bright colors for eye makeup, what you need to fight the battle for perfect proportions and hair care advice. An interview with Chris Evans about his new role and Gucci Guilty fragrance. Chanel cosmetics creative director Peter Phillips discusses the new fall trends.
Flash: the hottest party of the season according to Harper's Bazaar.
Harper's Bazaar — fashion without rules.