The August Issue of Cosmopolitan Already on Your iPad!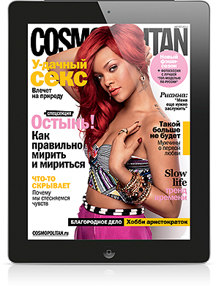 Starting on July 13, the iPad version of the August issue of Cosmopolitan came out. By leafing through the pages of this lively and voluminous version of their favorite magazine, readers will enjoy its surprises:
The dream of Maria Lesovaya, the Russia's best Top Model, came true — she went to New York for a stunning photo session. Look for details of the shoot in a special video!
IPad only: music video for Katy Perry's song "Last Friday Night," the best summer song about parties, new friends, youth and joy.
Test: "Which secrets can you keep?" While answering questions, you can find out how well you can keep strangers' secrets and how to accustom yourself to keeping your lips sealed.
"Balls battle": enjoy the beauty of rugby players not only from photos — Cosmopolitan prepared a special video.
The most complete August event guide: Download it onto your personal calendar to not miss out on the most interesting happenings.
Bonus: interview with Rihanna and Peter Facinelli, fashion trends of the upcoming season and the best articles of the month.
Download the latest issue of Cosmopolitan right now — and find yourself in an exciting multimedia world!