Harper's Bazaar Ad Campaign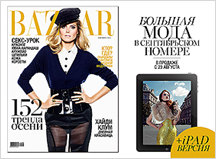 Harper's Bazaar celebrates 15 years in Russia in 2011. In honor of its anniversary year, one of the world's most authoritative fashion magazines is launching a major advertising campaign.
Harper's Bazaar is kicking off the new fashion season with a new slogan for the fall ad campaign: "Major fashion in the September issue." The ad campaign is intended to announce the September issue, which is once again released in a large format and devoted to the main fashion trends on the world's catwalks.
The campaign will be held from Aug. 23 to Sept. 11 and include billboards and format ads on more than 100 surfaces on the central streets of Moscow,  televised 15-second video clips in rotation, 15-second audio clips aired on leading radio stations, electronic banners and announcements on informational and lifestyle resources, priority end-of-aisle displays and special positioning in all premium retail chains, as well as advertisements in airports and BP gas stations.