Cosmopolitan Advertising Campaign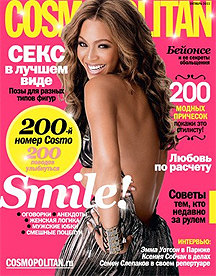 In honor of the release of the 200th issue of Cosmopolitan magazine, the "Cosmopolitan: It's Worth a Try!" advertising campaign kicked off on Sept. 13.
The magazine launched a new advertising concept in spring this year. The campaign, "Cosmopolitan: It's Worth a Try!" was a major event in the Russian print media, and the new slogan and image made it possible for Cosmopolitan to retain its leadership position among glossy publications.
The magazine produced creative new video commercials in the style of the "Cosmopolitan: It's Worth a Try!" promotion to consolidate the success of the spring advertising campaign. In addition to the image videos and the special layout, ads emphasizing the issue's cover will support its release.
Outdoor advertising in a variety of formats will appear in Moscow, St. Petersburg and other regions. Commercials will run on the TNT, Muz-TV and MTV television channels as well as on the Yevropa Plyus, Love Radio, Energy, Pervoye Populyarnoye and Shokolad radio stations.
The cover features Beyonce and a special gift insert for readers. The jubilee issue also contains a special section called "Smile!" — read, laugh and enjoy. Funny stories, jokes, ironic humor and experiments from top authors, the nature of laughter and the psychological theme: "The Harm in Happiness." The issue also contains a super bonus: 200 hairdos especially for you (choose the one you like and show it to your stylist).