Free iPad Version of Cosmopolitan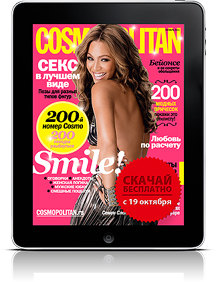 Thanks to support from Fa, GlissKur and PerfectMouse, the October iPad version of Cosmopolitan is available at no charge. This offer only applies to readers of the iPad version.
The special anniversary October issue of Cosmopolitan will brighten up your gloomy autumn days. The 200th issue is a star-studded hit of the season. Beyonce, Emma Watson, Ksenia Sobchak, Semyon Slepakov and other celebrities share their secrets and plans for the future. In fact, users can do more than just read the interviews — they can watch them, too. Readers of the iPad version of Cosmopolitan will hear and see special tips in exclusive video footage.
But the gifts don't end there. The highlight of the issue is a collection of 200 hairstyles presented in one special section. Readers can learn to create masterpieces at home or show their favorite hairdos to their stylist. And they won't need to lug a heavy magazine along — the iPad fits into even the smallest handbag.
"He is furious and ready to unload his anger at you. His glowing eyes and pursed lips convey it better than words ever could." Every woman is familiar with this situation. But how to avoid emotional outbursts? What is the right way to apologize? To thank him for a wonderful date? To avoid seeming meddlesome? These and other secrets about men can be found in the regular "Facts About Men" column.
Cosmopolitan also cares about the internal world of its readers, and this issue includes two questionnaires to help each one determine her type of humor and to choose a comedy to fit her tastes. Cosmo also reveals where lovers of books and adrenaline can seek adventure. Any young lady can feel like the heroine of a novel.