Harper's Bazaar: the 127 Best Handbags and Shoes of Autumn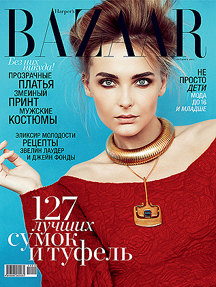 The October issue of Harper's Bazaar is ready for release. The cover features Ukrainian model Snejana Onopka wearing a dress by Lanvin, a necklace by Gabrielle Geppert Vintage and looking like a Madonna.
In this issue: the 127 best handbags and shoes of autumn.
With the onset of cold weather, choose the top fashion items: jackets and scarves of colored fur; ankle boots, shoes and sandals with stiletto heels and covered with fur; transparent dresses; snake skin designs and men's suits.
Fashion for the under 16 crowd — what fashionistas prefer.
A new look at the glamorous image of the '40s, the elixir of youth — beauty recipes by Evelyn Lauder and Jane Fonda and the main trends of the season with commentary by fashion critic Suzy Menkes.
Artyom Tkachenko talks about his role in the film "Vdrebezgi" (Pieces), model Georgia May Jagger is transformed into former British Prime Minister Margaret Thatcher, actor Evan McGregor confesses his love for independent films and talks about his life in Los Angeles.
A guide to the most outstanding events of autumn and the hottest party of the season according to Harper's Bazaar.
Harper's Bazaar — fashion without rules.