Collector's Issue of Harper's Bazaar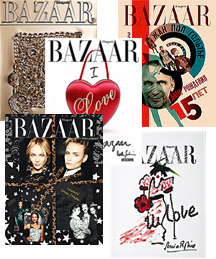 A collector's issue of Harper's Bazaar will go on sale in October and is timed to coincide with the publication's 15th anniversary. Famous designers created 15 different covers and unique content especially for this issue.
About 50 top designers share their secrets, and 15 of them gave interviews specifically for the Russian edition of Harper's Bazaar. They include Ralph Lauren, Karl Lagerfeld, Dolce&Gabbana, Diane Von Furstenberg, Michael Kors, Giorgio Armani and Jean Paul Gaultier. Readers will also see the results of a unique photo shoot that combined items from the latest collections with vintage clothing from fashion house archives.
The collector's issue, with a print run of 70,000, will be on sale from October through December. The magazine will be promoted with priority displays in Azbuka Vkusa, Globus Gourmet, Sedmoi Continent, Perekryostok and Aliye Parusa supermarkets, at BP gas stations and at the Domodedovo and Sheremetyevo airports. In addition to Moscow, the magazine will be sold in the Russian cities of St. Petersburg, Yekaterinburg, Samara, Nizhny Novgorod and Krasnoyarsk.