Domashny Ochag at Moscow Family Competition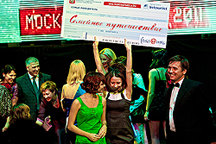 Domashny Ochag magazine served as the 2011 media partner to the annual Moscow Family competition, which held its gala finals on Oct. 22 at the Moscow State Music Hall. The contest was held as part of the global UNICEF Child-Friendly Cities program.
Ten semifinalists selected by Internet voting took part in the exciting competition for the grand prize — a family vacation courtesy of Intourist. The Kukharsky-Kiselyov family took first place in the Moscow Family 2011 competition and won a trip to Sharm el-Sheikh, Egypt. The Bystrov-Atroshchenko family placed second and was awarded a trip to Hurghada, Egypt. The Martynov family placed third and received a trip to Italy. 
Moscow Family and Youth Policy Department head Lyudmila Guseva warmly welcomed the participants and guests and wished them luck. According to tradition, the jury consisted of theatrical and film actors, television program hosts and other famous public figures such as honored Russian performer Angelina Vovk, television hostess and Ostankino children's television academy provost Tatyana Pushkina, honored Russian composer Lora Kvint, honored Russian artist Andrei Bill, world figure skating champion Maria Butyrskaya, Intourist general director Viktor Topolkarayev, Mary Kay Russia general director Alla Sokolova, SEB-East (Tefal) PR manager Tatyana Karachevskaya, Unic Mama program creator and director Anna Vrubel and Etoile beauty salons creative director Sergei Svetlogorsky.
The extensive entertainment program for the guests included performances by the Prime Minister and Love Stories groups, the Domisolka children's musical theater and the Chudaki theater. Domashny Ochag magazine also made its contribution by organizing a variety of handicrafts workshops for children and adults. All of the families in the finals were also awarded a complimentary one-year subscription to Domashny Ochag.