Grazia Selects the Best Young Designers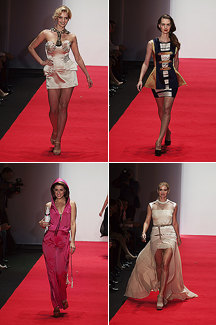 The finals of the Young Designers Competition organized by Grazia magazine were held as part of Mercedes-Benz Fashion Week Russia. The Grazia showing included the work of the contest's 13 winners and was held at 7 p.m. on Oct. 22.
This is the third time that the Grazia fashion weekly has held a competition for designers, and the professionalism of the contestants has noticeably improved each year. This year, the finalists presented evening and cruise dresses. The fashion show opened with a video that created an atmosphere reminiscent of the sophistication and elegance of the Cannes Film Festival. The contestants' work was modeled by Russian show business stars such as as actresses Anastasia Makeyeva, Lyanka Gryu, singers Tatyana Kotova, Yelena Perova, Yulia Mikhalchik, television hostess Snezhina Kulova and others.
The Die Blonde brand, known for its handmade jewelry, provided support for the finals of the Young Designers Competition fashion show. Company stylist Nadezhda Krugova created unique accessories to accent the originality and beauty of the beginning designers' work.
Katya Li, a Fabrika member, decided to also try her hand as a designer. The debutante admitted that it was a very unusual experience for her. "It was strange because I used to think up clothing designs only for myself," she said, "and now I had to create two outfits — an evening dress and a cruise dress — for two completely different young women." Fabrika member Irina Toneva and Mobilny Blondinki star Svetlana Stepankovskaya were models for the event.
All attention was focused on learning which of the finalists would be awarded the grand prize: the chance to create a personal collection and present it at the fall-winter 2012 Mercedes-Benz Fashion Week Russia event. The jury deliberated at length before deciding that such an honor should be bestowed upon Alexander Kondakov. The Marina Rimer studio awarded Darya Melnikova the chance to make a capsule collection. All of the models sewed in this workshop, and Rimer took note of Melnikova's work early on in the process.
Renowned designer Antonina Shapovalova was also a jury member this year. Shapovalova singled out Yevgenia Legkodymova among the young talents for the chance to do an internship with her. The British School of Design also took a hand in developing the Young Designers Competition by awarding gift certificates good for attending the design school's intensive Fashion Business course. Young designers Yevgenia Ishchenko, Sergei Polyakov and Anastasia Zadorina were awarded the certificates.
The Topshop brand provided footwear for the show. Maybelline New York served as cosmetics partner to the event and provided makeup artists for all of the show's celebrity participants.
Stay tuned to Pervoye Populyarnoye Radio and the World Fashion Channel for more news of the Young Designers Competition.